Quality Daycare Services and Care Providers Around!
Leave your pooch in good paws! Here at Golrusk Pet Care Center, we are dedicated to providing the best daycare service for your furry friend. You will never have to feel concerned about leaving your four legged friend again.
We offer multiple options for dog daycare
book now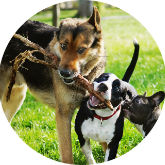 Group Play Doggy Daycare
We understand how important your pet's exercise and socialization are to their overall health. After a day spent at our doggy daycare, you will pick up a happy and tired pup.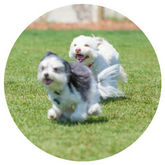 Puppy Daycare
$19 - $26.50 per day | Packages starting at $207
The first few months of a puppy's life are a formative time to build positive social skills with both dogs and humans outside the immediate family. Golrusk's Puppy Fun Camp provides your puppy a safe, supervised opportunity to socialize with other puppies, engage in mental stimulation, enjoy peaceful nap breaks, and plenty of playtime to burn off all that puppy energy!
Available at Military Avenue location only
Learn More

Swimming Pool
The pet dogs are taking the floaties off! Your pooches can take a dip in our stunning pool as well as appreciate their internal swimmers. Nothing like it and rather a sight to see. Our dog pool is a blast for dogs that like water. We have ramps for very easy in and out as well as we have a diving dock for s that like to jump in in this way also.
Whether your dog is here for dog daycare or you simply wish to give your dog the possibility to swim-- we can facilitate you and your dog.
What Golrusk Pet Care Center Customers Are Saying
We love all of our happy customers from areas around Green Bay, Bellevue, Allouez, Ashwaubenon, Howard, DePere, and more.
Come visit us in Green Bay, WI for all of your dog training, dog boarding, dog daycare, dog grooming, and pet product needs.